Advantage And Disadvantage Of Labour Contract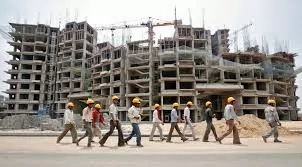 Advantage And Disadvantage Of Labour Contract
The method of house construction work can be in two ways: in the first way, the supply of building materials, and for the contractor provides labour (masons, carpenters, etc.). In the second way, you ask can the contractor to provide both the materials and labour.
But both methods of house construction have their own advantages and disadvantages ways. Let's talk about both which is best for you to build a house.
1. Labour Contract
Labour contract means that you only give labour supply contact to the contractor. This contractor can be supply, or handle labour work and you must provide all material required for house construction. Generally, Labour contract rate lies between Rs.250 to 500 Per sq ft, it's actually depending upon the location and quality of construction work.
Advantages of Labour Contract
Quality construction work

As material is used by a contractor doesn't try to save the material and he used required quality of material for construction a house.

Less dispute between contractor and owner.

You can choose your required quality of material for house a construction.

Saving in material cost.

You can compare price and quality of different construction material.
Disadvantages of Labour Contract
As material supply by owner contractor use excessive material than it required.

Contactor does not care about material saving where it can be possible.

Owner must care about continuous material supply on site.

Owner must do market survey and purchase material.

Owner have to work according a schedule which may be disturb or delay a house construction.
2. Material + Labour Contract
In this whole contract work or things is allotted to the contractor. It means the contractor are responsible for material purchase and supply on the construction site and the owner will have to pay for it. This is a house construction contact method as the owner has a minimum workload.
The material + labour contract rate or contraction rate is generally coming between Rs.1000 to 2000 Per sq ft or depending upon the quality of work, location, and contractor reputation in work.
Advantages of Material plus Labour Contract
Contactor are responsible for material supply, so owner is free for other work.

Owner can only supervise work properly.

Contractor must have good experience in material buying so he will select good quality material for construction.
Disadvantages of Material plus Labour Contract
If a contactor buy material for construction, he will try to save some money in buying a material.

Quality of construction can be poor.

Contractor can tries to save material used for construction. 

Contractor can be order a labour to use less material which results in poor construction.