Different Types of Finishes Plaster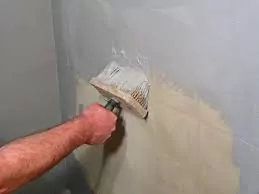 Different Types of Finishes Plaster
In this blog, we are talk about the finishing plaster and elaborate more about the types and differences of plastering. These finishes are used in exterior and interior for plaster finishes purpose. And it enhance the beauty of your house or commercial building.
What Is Finished Plaster?
Once the walls are construct, the next level operation are follows is Plaster Finishing. It is complete to ensure the equality of the top surface of the walls and to get more an aesthetic finishing look. The use of mortar to cover the wall surfaces and ceilings to get an elegant look and fine finish. We will be going discussing about several types of plaster finishing and its properties.
Types of Plastering Finishes
Here are 10 Types Plaster Finished,
1. Pebble Dash Plaster Finish
It is a kind of Plaster Finish in which small pebbles or crushed stones into the appropriate length (from 10 to 12 mm) are thrown onto a freshly implemented final coat of mortar and left exposed.
Pebble Dash Plaster
The mortar for the very last coat is normally made by blending cement and coarse sand in the blend proportion of 1:3 and in approximately 1 mm thickness.
The pebbles used for crushing with nicely washed and thrown moist onto the very last coat. The pebbles are tightly tapped into the mortar with a wooden float or with the flat of the trowel to give a proper shape.
This finish of plaster has all the benefits of the roughcast finish and is usually recommended in similar conditions. It is usually used for protecting exterior walls and gives a classy look to the house structure.
2. Scrapped Plaster Finish
In many houses to create a terrific mixture of clean and rough surfaces, a scrapped plaster finish is created. It is a plaster in which the last coat, after being levelled and allowed to stiffen for some hours, is scrapped with a metallic straight side antique saw blade or different such equipment to cast off the floor pores and skin.
Several sorts of scrapped completed may be acquired using wonderful sorts of equipment in unique manners.
In this plaster finish, the very last layer is normally six to twelve mm thick of which approximately three mm is removed in the scrapping process. The scrapping is finished after the placing of the very last coat has taken place.
In scrapping, the surface skin of the mortar is removed to show mixture, and the feel acquired depends upon the grading aggregates used in the very last coat. In this plaster finish is much less liable to crack than the apparent finish.
3. Textured Plaster Finish
A textured plaster finish may be typically observed on boundary walls or a part of a feature wall to create a textured interior décor installation.
A textured plaster finish is created by utilising stucco plastering, completed with a hard floor but frequently smoothed over to create repetitive patterns.
For textured finish blend of sand, cement, lime, and water used combined with numerous components including fibres and synthetics acrylics, or even colouring pigments.
In this finish, decorative finish or textured surfaces are produced by operating with numerous equipment at the freshly implemented the very last coat. This finish owns all the advantages of the difficult finish.
4. Stucco Plaster Finish
Stucco plaster finish belongs to a kind of plaster that materials a superior finish. This plaster may be applied for internal as well as outside surfaces.
Stucco Plaster
It is three coats which make the complete thickness of the plaster 25mm.
The first coat is referred to as scratch coat; the second is a finer coat of brown coat and the 1/3 is referred to as a white coat or completing coat.
5. Exposed Aggregate Plaster Finish
White and coloured marble chips will be of 6 mm to twelve mm length will be used which acquired from crushing hard marble stone.
Exposed aggregate finish plaster will be 20 mm thick. The method of utility will be like for the sand-faced finish. Mix proportion must be one cement: one marble chip and the pebbles for use will be nicely washed and drained.
The admixture will be thrown moist onto the undercoat even as it is still plastic the use of a strong whipping motion at proper angles to the face of the wall. Loose mortar at the top floor will be cleaned or removed by washing / brushing with a water jet.
6. Waterproof Plaster Finish
Cement water resistant compound of accepted make and manufacture will be used for plastering. These compounds shall conform to IS:2645.
Use of admixture includes calcium chloride shall not be allowed. The material must be added to the task site in its authentic packing.
The compound will be nicely blended with dry cement in the percentage of three% by weight or as recommended by the manufacture.
Care will be taken even as blending, to look that waterproofing material receives nicely and integrally blended with cement and does not run out one by one on the addition of water.
7. Smooth Coat Finish
This form of plaster completing is clean in nature with levelled floor. The proportion of 1: three is used for Sand and cement for making mortar utilized in completing.The application of mortar to the wall is finished the use of wooden float.
8. Sand Finish Plaster
This plaster finishing is usually completed in coats of mortar blend. The ratio of cement sand is stored 1: four in mortar for the primary layer with 12mm thickness.
Initially, the first layer is conducted and then cured for 7 days, which is observed by the second one layer with a thickness of 8mm.
As per requirement, the ratio is stored at 1:1 for sand and cement mixture. Use of sponge is finished after when the layer is moist to add the specified characteristics.
9. Rough Plaster
Rough finishing of plaster requires a Cement Sand Aggregate ratio of 1:1: three for finishing work, having a rough mixture size of 3mm to twelve mm.
In this Finishing of plaster floor, the mortar blend splashed at the wall, and then it is finished rough with the assist of float made from wood.
This finished plaster is greater durable, waterproof, and crack and crazing proof.
10. Depeter Finish
It is like most final finishing plaster coat that is having a thickness of around twelve to fifteen mm for a brilliant quality finish.
The materials of Gravel Plinth are compressed to the specified degree manually after the utility of mortar. Gravel plinth can be used in diverse colours and shapes to give a colourful look to the wall.
Gain the specified characteristics for surfaces including aesthetic, Heat insulation, durability, and lots greater houses there is the necessity of including a few unique materials with cement paste.
The followings are the wall plastering materials,
1. Acoustic Plaster
There is usually a want to add gypsum in mortar blend for floor finishing to resist the formation of honeycomb. In formation of honeycomb, the floor coat is vulnerable to undergo chemical reaction resulting in the formation of gas bubbles which in flip results in the formation of small openings at the floor which finally seems honeycomb-like structure.
The acoustic plaster has small pores opening it which absorb sound. Therefore, Types of plaster finishes are maximum used to cover a cinema hall and media room to a minimal the eco echo effect.
2. Asbestos Marble Plaster
Asbestos Cement similarly to crushed fine marbles combined with cement to obtain an ideal Surface Finish.
3. Barium Plaster
X-ray carbines are very plenty liable to radioactivity which enforces the combination of barium soleplate in mortar all through the completing works to make certain the protection of people working in such areas from radioactivity.
4. Granite Silicone Plaster
It is a plaster finish achieved through blending silicon and granite with mortar. Use of such plaster finishes is completed for the constructions with superior characteristics.
It is an elastic in nature and short in the placing. This plaster cuts cracks at the floor
5. Gypsum Plaster
POP
Plaster of Paris is obtained by heating gypsum at 165°-to-170°-degree temperature. Plaster of plaster were given liquefied inside 5-eight minutes of heating
While Using POP right amount of retarder is blended with it to beautify the placing time of mortar. For crack restore and ornamental work, a POP is used with lime for suitable bond strength and finishing.
It is a lightweight, soundproof, and fire-resistant material is used in construction.
6. Keene's Cement Plaster
For manufacturing Keene's Cement Plaster, POP is blended with alum in fixed proportions. These kinds of plaster used for ornamental functions because it seems appealing after hardening which while forms a polish like white glass after hardening in few days.