How to Calculate Total Construction Cost For Your House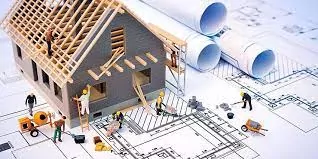 How to Calculate Total Construction Cost For Your House
If you're Planning to build your own dream house, it may be a difficult when you have no idea about the construction cost. Everyone has a dream to have their own house as if he/she does not have to live in rented houses. But there are many people worry about how much money spend to construction.They will have to collect money to build a house, or we can say a real cost to good house can be built.
Let's see a way to be calculated house construction price and here I'm also presenting a house construction price calculator sheet that will help you to calculate a cost easily.
House Construction Materials
Building a house in India has not an easy, especially in cities, it is a very difficult task, in different states of India and their cities or rural area, different types of housing construction materials are available, which are used to build a house.
The main materials used for construction a house are cement, sand, aggregates, bricks, and steel. The prices of these construction materials are different according to city and every area.There is convenience and inconvenience in house construction, all these things in cities are very high or low prices. On other hand, House construction materials in the village area can be cheap.
Building materials play an important role in increasing or decreasing construction. If you find materials nearby locally available then their rate will lowcomparedto the other cities, but in case if materials are required to be transported from a long distance to a construction site, then the material cost will be high. This high material rate will add extra cost in house construction.
The quality of material used in house construction also affects the construction of the house. As we decide to build a quality house, we will have to use good quality material and its price will be high compared to normal house construction material.
Let take an example, there are different qualities of brick available in construction material supplier shop
1. First Class Brick – 6.5/ brick
2. Second Class Brick – 4.5/brick
As you can see first-class bricks price is high compared to second class brick. You can clearly see that first-class brick cost is Rs.1. High than second class brick, means if all construction work required 30000 bricks, then your house construction cost will automatically increase by Rs.30,000.
Let's Take Another Example,
If we all know that construction steel has various grades such as Fe 415, Fe 500, and Fe 500D, etc. and Fe 415, 415 is a tensile strength of steel. Fe 500 is high tensile strength compared to Fe 415, which means if we choose high-strength steel bars for house construction our construction costs get increased.
So, If Steel grade Fe 415 TMT price is Rs.50 /Kg and Fe 500 TMT cost Rs. 60/kg in the market and we choose Fe 500 means our cost of Steel bars will increase by Rs.10/kg.
Hence, if the total steel used for house construction is 3000 kg, then the cost of steel used for construction will increase 3000 x Rs.10 = Rs.30000
So, we can see just by choosing high-quality material our cost increase significantly.